Weekend Recap: There Goes Eric
July 25, 2016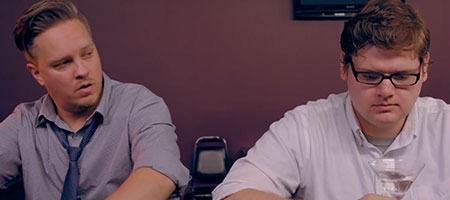 As an aspiring filmmaker, I've been pushing hard as of late to get my name attached to more films, large or small. To a point, I'm picky. I want to be associated with projects I believe in. Other times, it's simply good fun to be a part of something silly. Such as the case with the latest film I had the privilege to be a part of, There Goes Eric.

Towards the end of June this year, Greensboro, the city I now call home, hosted it's annual 48 Hour Film Project. You may recall an earlier blog post about last year's adventures with Real State. Once again our team lead was Criss Cain of Entercainment Productions. Criss and I have worked together on 2 previous projects and I imagine we'll work on more in the future so when he asked me to come on board to handle lighting, I happily hopped on the bandwagon to bring what skills I could to the table.

As things typically go on short films, everyone wears multiple hats. This shoot was no different. While I handled lighting (schematics may come later), I found myself quickly immersed in the sound department, assisting our boom operator and actor/mixer, John. This year's shoot was far less chaotic, more timely and felt more professional in caliber. It was a refreshing breath of air to be on a functioning set without a ton of chaos.

During our screenings for There Goes Eric, the crowd responded gleefully and many were left singing the jingle associated. We won three awards as a result of our efforts and I couldn't have been prouder to be a part of such a fantastic cast and crew. Everyone on board shined in their given roles and responsibilities and deserve every bit of what was earned. Our team received the Audience Award for our screening, Best Musical Score and Best Use of Prop, Dog Toy.

Along with our awards, we had an additional showing at the Idiot Box in downtown Greensboro, one of our filming locations. Jennie and Steve have been gracious hosts in allowing us to both film on location and share our work with an audience and 3 other award-winning 48 Hour Films. It was like our own little premiere of sorts and it felt great.

It may not be the Oscars or some prestigious Hollywood award but it's still an important part of what we all can and have accomplished. I truly believe this is only the beginning for those of us pursuing this crazy industry.

This is only the start. Keep going.