The Jabberwalk
July 31, 2016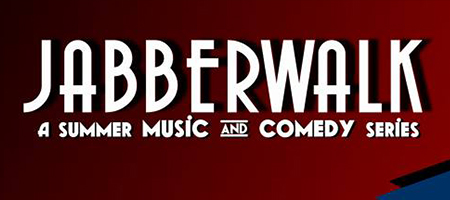 Over the course of the last two to three years, I've found myself with a strong desire to work with local bands and musicians. There is a strong need to embrace and cultivate the indie music culture in the Triad area. I knew when I finally settled into a home, I wanted to pursue opportunities to help change some of that. Of course, having a full time job can hinder that at times but it is something I still strive for. The universe recently aligned as I was asked to assist a local Greensboro band in producing a few music videos for them. While those videos are still in production, it afforded myself and members of the band an opportunity to work on other projects together, namely a local music and comedy series they call the Jabberwalk Music and Comedy Series.

Joe Rinaldi, drummer for The Rinaldi Flying Circus, and comedian, Eric Trundy, began developing the idea for the Jabberwalk Music and Comedy Series with a sort of pilot event held at The Crown in the Carolina Theater in early 2016. The Jabberwalk Music and Comedy Series brings together touring bands and rising comedians for a night of great music, laugh-out-loud comedy and good times. The summer series is a three-part series held over the months of June, July and August.

Several months ago, as I was working with The Rinaldi Flying Circus to film a music video for their upcoming album release, Joe approached and asked for my assistance. He and Eric desired to film each event for online distribution. Think along the lines of Austin City Limits. Of course, I believed in what Joe and Eric wanted to bring to the Greensboro scene so there was no question I wanted to be a part of it.

Due to scheduling conflicts, I was unable to participate in the first event of the series, in June, but that didn't hinder me from organizing a crew. I turned to Criss Cain once again to take the lead for June. Criss knows music and he knows filmmaking. I also brought aboard three other, local videographers as part of the crew. Regardless of the outcome from June, I knew I had a good team that could cover the event without my direction. I had to trust them, which I did.

As with any crew, especially a crew that had only marginally worked together before, I knew there would be hiccups. We are working with pretty much no budget, so I knew we may suffer some technical and potential quality difficulties throughout the entire series but they came through. I knew I had good people helping me.

Moving into the month of July, I could now be more involved for the July 30th event as a camera operator and director instead of simply a producer, of sorts. I won't deny that I was nervous. I want to produce the best possible product for those who trust me to film their events. With narrative film, there is often the option of a reshoot. With live events, that goes out the window. We have one chance to get it right.

I've been in these live event situations before. Thankfully, this is a standard for my regular job during our trade show season. I have one chance to get our marketing imagery for the next year. It's chaotic, run-and-gun, seat of my pants for four, 14-hour-plus days with no crew, no assistants.

For the Jabberwalk, it was three hours, on one night but I had a solid crew. I was well aware of Joe and Eric's expectations and I had my own to live up to. I set high ones for myself but try to be realistic when it comes to managing a crew. When I trained with Vincent LaForet several years ago, he stated that sometimes you have to simply get the shot, even if it's not perfect. That bit of advice has stayed with me. I needed them to get coverage. While I could have micro-managed each team member, this would have only slowed us down. It wouldn't have been productive for any of us so I checked in on everyone as needed, switched out lenses or batteries when they needed it, then grabbed my camera and went back to work.

Of course, I always want the perfect shot. When I'm working an event, I'm constantly looking, analyzing and anticipating what the next shot will be. This is what I've done, professionally, for nearly five years now, a hobby for nearly fifteen. I have to think on my feet. I don't always get it right, but I get something usable. Coverage is king in live event filming. Perfection is often sacrificed for coverage but that's part of the game, at least at this stage.

I could go on about the thinking behind filming live events but in truth, the best practice for these situations is in the field, working events. Live events push me to be a better camera operator, director and photographer. It's a natural part of the progression. This was also an opportunity for the rest of the team to earn some of their own chops. I gave them an outline of what I was looking for and gave them what tools and information I could without restricting their creative freedom.

The performers for the July 30th event were some of the best I've seen in a very long time. In truth, I'm horrible about following the indie music scene or the practicing comedians that are coming up the ladder. I haven't been a touring musician in some time so I fell out of the scene, unfortunately, but I am glad I was asked to be a part of this event. I am working to be more versed in the talent surrounding me. There's a ton of it out there and there is a strong need to highlight, promote, market and bring that talent to the forefront. I hope to be a part of further developing that scene, even if only in small participation. It's certainly something this area needs.

Eric Trundy opened the evening as many emcees would while bringing his own brand of funny, witty, quick-thinking humor to the stage. Eric soon introduced the opening act, The Duskwhales, that quickly filled The Crown with a great mix of their own original music, the stylings of which I akin to the Beatles and classic rock bands. The Duskwhales are a young band with three members, each of which are supremely talented and have a bright future ahead of them. Their passion for their music shows in the their performance.

The evening continued with comedian, Brent Blakeney, a tower of a human, sharing stories about his wife, his border collie (that dog connection thing, you know, it's important to me, right?) and a variety of his life experiences. If he's performing in your area, go see him. You won't get spoilers here. Ha!

Following Blakeney, headliner Red Mouth (lead by Eric "Red Mouth" Gebhardt) took the stage. Red Mouth brought, what I feel, a combination of rockabilly, americana, and a country swing vibe to their performance. The music of Red Mouth felt reminiscent of greats like Lyle Lovett and Roy Orbison. As well, each member was mesmerizing in their performances on their respective instruments. Undoubtedly, Red Mouth inspired, what I feel were, some of the best shots I took all night.

As Red Mouth wrapped their set, Eric Trundy took the stage for a set of his own. This is the first time I've seen Eric perform stand-up. We've worked together on previous projects, but I haven't seen him perform his set. Again, what rock have I been under? Funny doesn't begin to describe Trundy's comedy. He rounded out his set sharing an incredibly well done and hilarious story about airline travel. I'll save the details for you to see it for yourself because, well, you should. DO IT! Dusty Rhodes demands it (now you have to see him simply for that reference alone).

Rounding out the comedians for the evening was Lauren Faber, named 2016's Carolina's Funniest Comic by the Dirty South Comedy Theater. Faber is certainly a rising star in the comedy scene. While the brunt of her set shared the woes of online dating, she was brilliant in her delivery, approach and interaction with the audience. She connected with most folks in the audience. There was one couple that left during the opening set about the recent bathroom bill ridiculousness. Meh, their loss, really. Faber's approach is definitely fresh and pro. Try not laughing when you're filming in the first place then try not doing it when Faber is on stage. You can't do it. Sorry, Rob, edit out my goofy laughing in the background.

Admittedly, I have never heard of these two featured comedians aside from working with Joe on the series. I am pretty well kicking myself for this. Both were funny and fantastic, bringing very different approaches to the stage while, oddly, wearing the same shade of lavender button-up shirt.

Finishing out the evening was local Greensboro band, Elemeno, an alternative rock band. Lead vocalist, Toni Tronu's stylings made me think I was listening to a newer, younger version of Debbie Harry (Blondie) with less punk rock, more alternative rock influences. Their musical style was a great addition to the already talent-packed evening.

By this point in the evening, I had been on my feet for several hours, brain fully engulfed in the work I was doing, so my reviews and memory of every single song or bit is not as thorough as I would like, so, there's that.

Simply put, each performer was incredible. They are all worth the price of admission and more. They are all worth purchasing merchandise from. They are all worth supporting, either financially or by providing a supportive, creative place for them to perfect their craft. We need more support of independent artists and comedians throughout our country. There's plenty of room for all of us to be entertained by these wonderfully talented people. So make a point to get out into your cities or communities to support these artists and performers. And yeah, I'll make an effort to be better about it as well. I can take a Friday or Saturday night out of my time to support local talent. You should too.

Go to the August 20th show!