Seventeen hours in the 1900s
October 17, 2016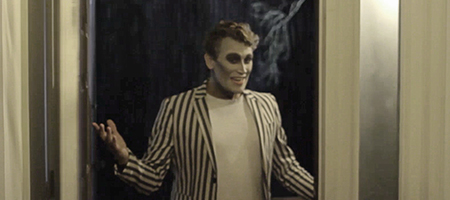 It's October. Fall is upon us and North Carolina is already turning cold. Although I'm not exactly ready for the cold and the inevitable snow fall we will receive this winter, it means one of my favorite holidays draws near: Halloween. This year is especially meaningful as our local producer for previous 48 Hour Film Projects has brought to the community the horror edition of the 48 Hour Film Project. While I'm not a terribly big horror movie fan, I love Halloween, special effects and effects makeup so I knew I wanted to be a part of a team.

Not long after I received word of the 48 Hour Horror Project announcement, I was approached by Entercainment Productions mastermind, Criss Cain. Criss and I have worked together on previous films Real State, Scoping Mechanism and There Goes Eric. He asked me to come on board as DP for this shoot. How could I say no?

As I've become more and more familiar with working on film productions, even small, indie productions, I've learned that I enjoy cinematography and special effects more than I do any other responsibility I've been privileged to have. But cinematography for any shoot can come with it's own set of unique challenges.

The crew began our day on location at a later time than previous call times. Crew call was at 10:30am. Once Criss, our director, arrived, he and I began to plan our first scenes with the aide of our gaffing team. It was a bright, beautiful fall day, full sun with nearly no clouds in the sky and it was my responsibility to turn it into a dark night, that to which I have never done. I won't divulge the story here other than it takes place at night.

Moving through the day, we spent some time rigging the exterior of the house in order to block out as much light as possible. I'm pretty confident my neighbors have come to the conclusion that I have officially lost my mind. After nearly three hours of rigging, planning and setup, we shot our first scene. Nothing overly complicated or fancy with the cameras, as this shoot was so special effects heavy, I wanted to keep the camera movements simple. When I think of movies from the decade we were focusing on, I think of mostly locked-off shots with some dolly movements included but didn't feel this script called for a lot of heavy motion. We were in one location with a large group of people so setting up full-blown sliders and dollies would have been a very cumbersome endeavor. We shot primarily traditional triangle coverage, leaving the special effects to carry the story forward.

I will offer a more in-depth breakdown of the effects and cinematography processes involved once the film is released next week. Stay tuned!